Be comfortable in front of the camera
As a founder, an entrepreneur or an executive, you are inevitably going to find yourself in a situation where you will have to present on camera. It could be anything from a business pitch, to a presentation or a digital demonstration. In this class you will learn how to act natural, have fun and be your best self on-camera.

Be it for an interview, your YouTube or IGTV channel, a big presentation, your business pitch or just an important video call – as an entrepreneur today it's impossible to avoid presenting yourself and your ideas in front of the camera.
In this Spot On Class, actress and acting coach Annelise Bianchini will show you how to get comfortable in front of the camera and deliver a relaxed and engaging performance. The lesson covers everything from the technical basics with tips for set and lighting, to controlling your body language, and getting into the right mindset.
Focus on the goal and the body will take care of itself. This is one of the biggest non-obstacles for people. We get in front of the camera and suddenly we can't remember how to be a human. Like, how did I do that thing where I was breathing…? Take your attention off yourself and put it on developing a relationship with your audience. 
No Eyefucking
The next time you are having a conversation pay attention to how much you are actually looking into the other person's eyes and when. If you were to stare into your friends eyes while talking to them for 3 to 6 minutes straight would that be awkward? Yes. It's the same with staring straight down the lens.  
Optimize the best version of yourself
Don't try to be someone else on camera. To us, it will look like we are watching someone trying to be someone else. Do whatever your genuine style is. Add passion, confidence, joy, (eagerness for) connection. If you are naturally a quiet and/or introverted person, that is ok, you don't need to be loud and off-the-walls excited. You can be confident and quiet, sometimes that's even more powerful.
Shake Out
Between takes it can be good to stand up and do a little shake out, make a little noise, do something physically and vocally random or silly. Then find your seat again and take one of those good ol' belly breaths and start again. This will loosen you up and get the blood flowing.
Meditation 
Do the meditation before you begin to calm your mind and focus your energy. 
Have a real imaginary conversation
Your body does not know the difference between what is real and what you imagine, this is one reason why acting works. What you are doing, in a sense, is acting — as in taking action — truthfully under imaginary circumstances. So imagine you are having a conversation with the camera. If that's too far a stretch, place a teddy bear behind the camera and have a conversation with your teddy bear. 99% of us used to do this as kids, pretending to have real conversations with inanimate objects. You've done it before, you can do it again.
Surprise yourself! Keep it spontaneous 
Sometimes it can help to go off script. Spontaneity is the opposite of self consciousness. You will often find gems of pure, genuine behavior that you can edit into the final piece because they will be an honest expression of who you are. Before you say your "line" it can help me to nod and say yeah, yes, to your "scene partner" to remind your body what it's like to be having a conversation.
Present the picture
Remember, everything we see is part of the story you are telling. Rehearse in front of the camera, watch it back and adjust accordingly. Make sure you are sitting upright, with your shoulders back, looking engaged.
Get ready for your on-camera performance
Download the guided meditation
For each Spot On Class, we provide learning material to memorize and practice what you have learned. Just leave us your email address and get access to the guided audio meditation.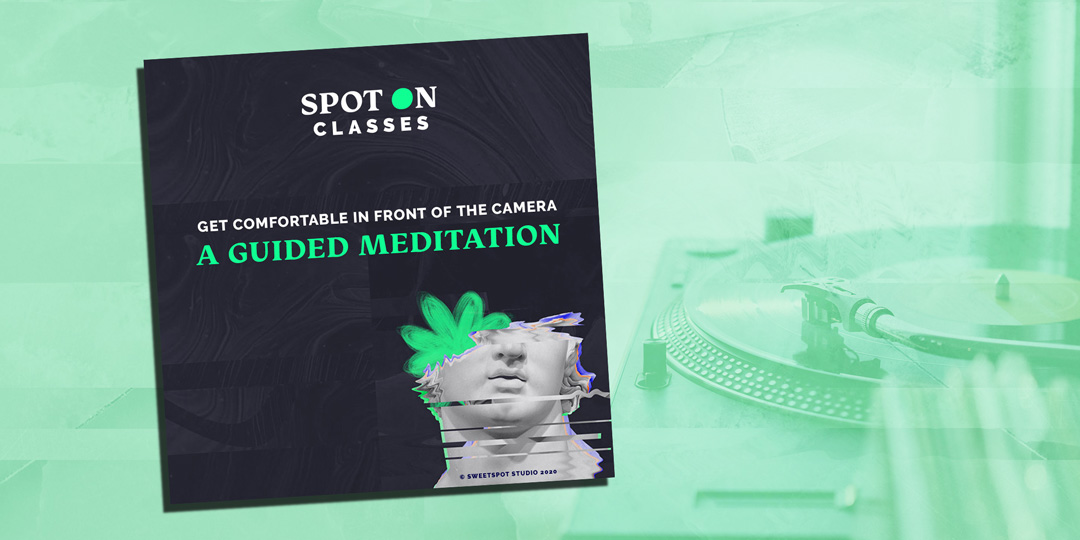 The audio meditation includes:
Boost your confidence

Relax and ignite your body language

Set your mind up for a great performance
Good lighting
If you don't have a ring light or a softbox light, the best thing would be natural light. Find a room in your house that has a window with lots of light. You can also use a lamp as backup to cancel out any shadows and evenly light your face. 
Background
What we see behind you also tells the story, so it can be a room in your house as long as it's not too distracting, it can also be just a plain wall. Think of your background as a minor supporting charter.
Outfit
Your outfit is your subtext. What do you want to say without saying it out loud? Make sure it's something you feel comfortable wearing.
Make sure that your setup is pretty easy to recreate, the less stress around technical set up, the better. 
Camera
A smartphone camera will work fine for this. Double-check the lens isn't smudged, so many times have I ruined a self-tape because of a smudge. 
Tripod
I highly recommend getting a tripod. If you don't have one already, you'll need to have a steady camera that is at eye level or just below. Your frame should be about up-mid ribcage to a few inches above your head. 
Script
Do you already have a pretty clear idea of what you want to talk about? This usually includes, who you are, what you are, and why, as an intro.
It may seem like a lot elements to remember at first, but once you practice you'll find yourself in the swing of things in no time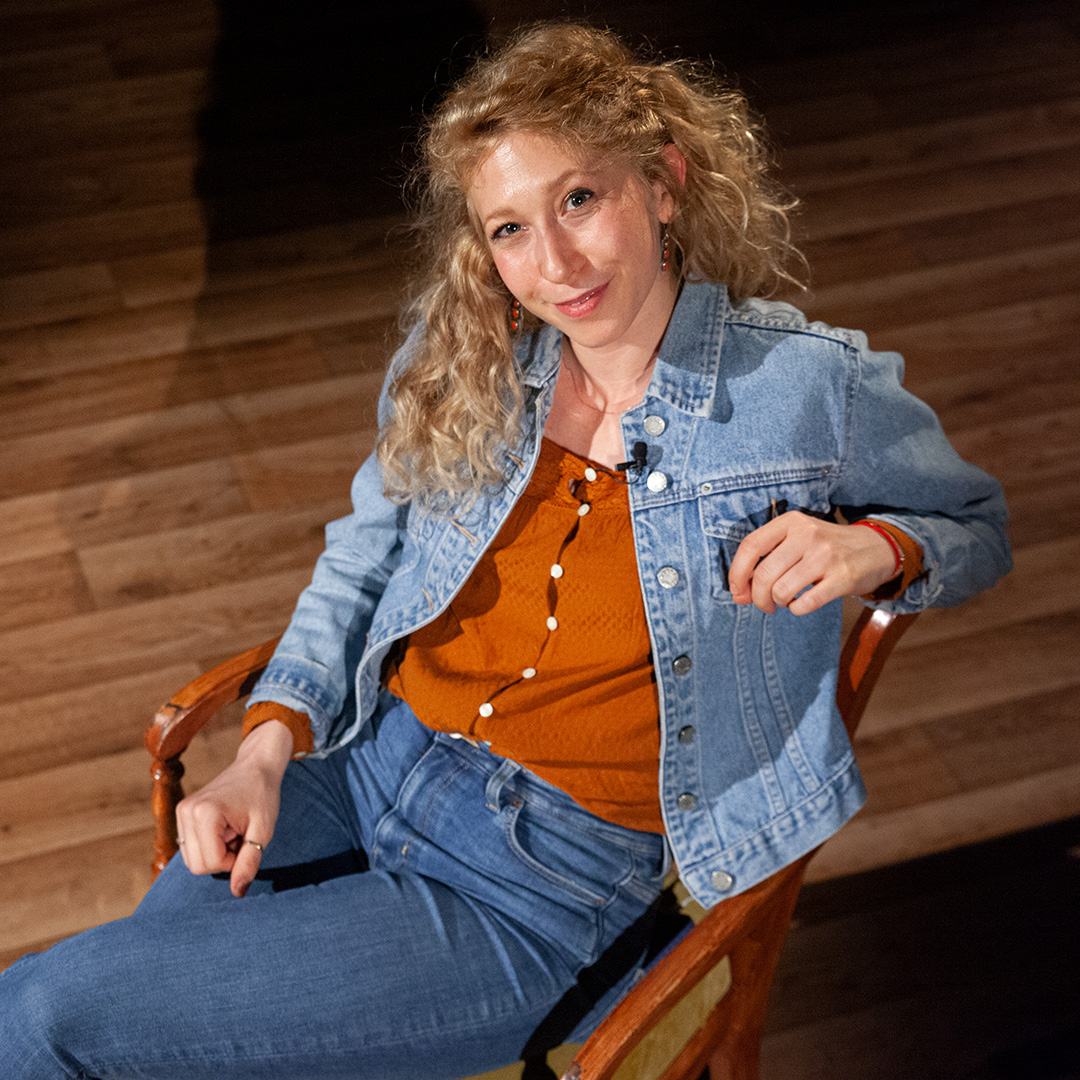 Annelise Bianchini
Actress and Acting Coach
Born in California, raised in Colorado, Annelise moved to New York to attend the American Academy of Dramatic Arts. She completed her undergrad in Drama Therapy from Goddard, while attending ongoing scene study classes at the T. Schreiber Studio, Ron Stetson Studio, Joan Rosenfels Studio, Ken Schatz Studio, and The Freeman Studio. She holds an MA from The Royal Conservatoire of Scotland and has studied Meisner at the Salon Collective. Today, Annelise lives and works in London as an actress and acting coach.
To find out more about classes visit New York Style Scene Study. 
Her acting resume and showreel can be found at annelisebianchini.com